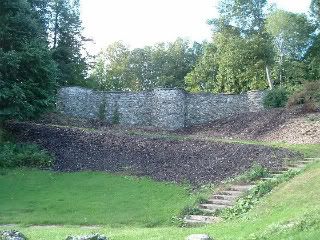 White Lady's Castle - photo from Virtual Tourist by rdywenur (Chris)
At the turn of the century, Dr. Henry S. Durand owned a summer camp in Irondequoit, near Rochester, in New York's Monroe County. He and his friend George Eastman saw a need for a public park in the area and bought a number of farms around the Durand property.
They transferred the property parcel between the Genesee River and Irondequoit Bay to the people, and on May, 22, 1909, Durand Eastman Park was formally dedicated.
The park is a jewel, sporting a Lake Ontario shoreline, a Robert Trent Jones golf course, great trails, beaches, and about everything an urban boy could want to return to his outdoorsy roots - including a legendary "Lady In White."
The White Lady is well-known in local lore. The details of the legend are fuzzy and debated, but the main story is crystal clear - a man kills a girl, the mom searches unsuccessfully for her body, and finally dies, filled with pain. Then she returns from the grave to continue an eternal search, making sure to give any men she runs across a hard time on her daughter's behalf.
The story begins in the early-to-mid 1800s, when the White Lady and her daughter were said to have lived where the Durand Eastman Park now stands.
The mother was abused by her husband and he eventually split the scene, leaving her to raise her daughter alone. It also gave her quite the attitude regarding men, which carried over in her relationship with her girl (and into the afterlife).
At this point, the tale diverges a bit. One version said the teen daughter had a boyfriend that the mom disapproved of, and another claims that a neighboring farmer had been making lustful eyes at her.
The girl left the house one evening to take a walk on the beach with maybe her beau, or maybe alone. Either way, she never returned, perhaps killed by her lover boy after a spat (don't you hate it when your mother's right?) or raped and murdered by the jilted local.
The distraught mom reported her missing child to the local gendarmes, who did next to nothing about her claim (although her report is supposedly still on file; talk about your cold cases!). The White Lady took to searching the shoreline herself day after day, accompanied by her two albino German Shepherds, but they had no luck in discovering the girl's body.
Finally, overwhelmed by her grief, the mother threw herself off a cliff into Lake Ontario (or perhaps off a bridge into Durand Lake; other versions say she lived to be an old lady and died a natural death). Her dogs pined away for their mistress and shortly joined her in the netherlands.
A sad story indeed. And it's just beginning.
Legend relates that the White Lady and her two dogs rise from the foggy mists of the lake (Ontario, Durand, a pond, take your pick) at night and together they roam through Durand Eastman park, still searching for her missing daughter or any other woman in trouble.
Some isolate the Lady in White's haunting to a crumbled foundation on Lakeshore Boulevard, with a great view and reached by twenty stone steps leading from the road. The ruins are known as the "White Lady's Castle." They do in fact look like a castle's remains, made of stone with round turrets.
It's said to be the remnants of the White Lady's house or an old hotel, although local historians say that the stonework is what's left of an old Conservatory built over the bones of a former battery guarding Lake Ontario from the Canadians and their Brit buds.
The spirit is said to hateful toward males (little wonder) and pounces on men relentlessly, seeking her vengeance against the guys visiting the park for her daughter, especially when they're with a girl. Mother's instinct, hey?
She actively seeks out guys, supposedly searching vehicles for necking couples. The White Lady picked a good spot for her mission, too - her castle is party central for teens and a popular lover's lane. Many young couples have allegedly been scared witless during their smooch sessions after seeing a white apparition with two spectral dogs drift towards their car. And it doesn't pay to be brave.
There have been many reports of the White Lady chasing men into the lake, shaking their cars, scratching their faces, sending her dogs (oddly, most reports say they're Doberman's) after them, and generally raising havoc until they leave the park. She has reportedly never touched any females, although they've seen her and her dogs. They say she seems very peaceful, yet extremely sad. (The guys may argue the peaceful part).
It's also been claimed that the daughter's muffled cries and sobs can be heard near the Castle. But it's not the only place the White Lady and her pooches visit. The Lady in White has been spotted all over park, even on the golf course. Her misty form has even been allegedly photographed a couple of times.
Many consider her not to be a spiteful spook, but a guardian spirit (well, the girls, anyway).
It is said that if a gal suspects that her guy has been fooling around, one acid test of fidelity is to take him to the park. If he has been untrue, the White Lady will come a callin'. He'll be the only one able to see her, and she'll use her supernatural wiles to compel him to tell all about his cheatin' heart. Hey, who needs a big scene or Sodium Pentothal when the Lady in White is waiting in the wings?
There's an almost entirely different spin thrown on the tale by "Rochester - Off the Beaten Path" on the
Virtual Tourist
site. It goes like this:
In an age when the mentally ill were hidden away, she, the insane wife of the influential Dr. Durand, was cloistered in their vacation home on the lake. Abandoned and embarrassed by a philandering husband, she torched the house. The charred bodies of her nurse and orderly were found in the rubble (now known as The White Lady Castle) but Mrs. Durand had disappeared. Lady Durand roams the park, hunting unwitting young men who, she believes, take advantage of the young women who accompany them.
While there are multiple versions of the White lady legend, how many ghosts can claim to be the inspiration for a movie? Writer/director Frank LaLoggia is said to have created his 1988 supernatural thriller "The Lady in White' based on her lore.
Her legend is featured in many books, including
Weird New York
by Chris Gethard and
Spooky New York
by folklorist S.E. Schlosser.
The locals even get into the act, hosting a "Lady in White" candlelight Halloween Ghost Walk.
(While researching this post, H&H ran across nine other "Lady In White" legends based in New York alone. Geez, aren't there any ladies in black or red?)