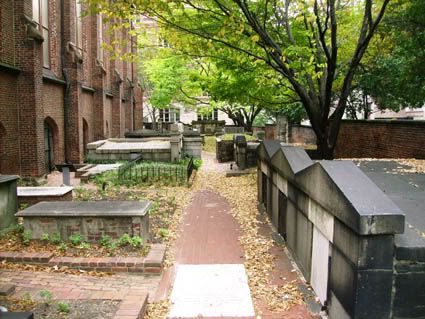 Westminster Hall & Burying Ground
image from Welcome to Baltimore
The Westminster Presbyterian Western Burial Ground, located in Baltimore, Maryland on Fayette and Greene Streets, was purchased in 1786 (it had been part of John Howard's peach orchard), and became the final resting place for the elite of the region.
A church was built directly atop the burial grounds in 1852. The web history has it that a local law required cemeteries in the city proper to physically connect with an adjoining church, but it actually was raised to provide a growing western Baltimore population with a place to worship.
property being tight, the structure was plopped in the middle of the boneyard, straddling gravestones and burial vaults to create a hybrid catacomb system between its supporting arches and under its floor.
But the church membership crested and by the 1920's, the flock eventually moved away into the 'burbs, leaving the historic graveyard deserted, in disrepair and vandalized for decades.
In 1970, the U of Maryland got hold of the land, and in 1981, the Westminster Preservation Trust began to manage the property and are in the ongoing process of restoring it. Thanks to their work, the church (now Westminster Hall) and cemetery are again open to the public from dawn to dusk.
The graveyard now holds the plots of deceased plain folk, assorted hoi-polloi, eight congressmen, five mayors, Revolutionary War and War of 1812 veterans, a small army of generals, and local celebs like Edgar Allen Poe, all who found Westminster to be their last stop.
And not very many of them seem to resting in peace.
Cemetery visitors have reported hearing bodiless voices, footsteps and screams, feeling the grip of invisible icy hands, sniffing inexplicable stenches and encountering cold spots.
There are numerous alleged sightings of spirits and dark misty figures roaming the grounds, often looking more lost than the living. Ghost hunters have captured EVPs and photos of the dearly departed in orb/shadow form. And that's just the tip of the iceberg.
One suspected cause of the eeriness is the church itself. Because it was thrown up in the middle of the graveyard (it's said that the cemetery's brick paths were used as a foundation), there are some tombs that are now inaccessible to visitors. And boy, there's nothing more cranky (or noisy) than a lonesome, forgotten spook.
Another is the movement of graves during the building of the church. A whole section of Revolutionary War soldiers thought lost was later discovered under one of the walkways, and other bodies were likewise shuffled around or just plain lost.
God only knows how many plots were covered or moved because of the church; it was said that kids could be seen playing with skulls in the graveyard.
Davidge Hall provided another source of potential spookiness. It is the oldest medical school building in the US, dating back a couple of centuries, and was where bodies were dissected by the students. It was also built on property carved from John Howard's farm, so guess where the cadavers came from?
Digging up bodies for anatomical studies became commonplace. The midnight raids, though, so upset the locals that they once hung a student grave-robber that they had caught in the ghoulish act. Vandals and thieves were also a constant problem. They left the bodies intact, but stripped off anything of value, like jewelry.
Add to that macabre mix tales of people buried alive, although for what reason we never did discover, and you have a perfect storm for spooks. Neglected, abused, dissected, relocated, built over, lost...it's no wonder there are so many reports of Westminster apparitions.
There are several haunts that are renowned at Westminster. One is the "screaming skull of Cambridge" of a long-ago murdered minister.
It's said to screech 24/7 - and the lore is that when they planted the clergyman, they gagged his skull's yap and covered it in cement in an effort to shut him up. It usually works, but woe to anyone that hears the scream; it's supposed to drive you insane.
Another often-sighted spirit is that of a nameless, elderly, white-haired spirit, seen walking slowly between the rows of tombstones as if in search of a particular marker.
There's also lore of an insane woman's ghost haunting the catacombs. She was considered so raving mad that she was buried in her strait jacket. Her crazed laughter is supposed to echo through the catacombs, and her presence has reportedly followed folk through the graveyard.
And don't disrespect a grave; the shadow of an old groundskeeper may show up and start chasing you with a shovel. The ghost is said to act as if he's under the influence, as he was most of his time on earth, and will swear up a storm while shooing you out of his cemetery.
The second-most famous spirit is that of 16 year old Lucia Watson Taylor, who died back in 1816. She's been seen many times kneeling by her own grave and praying, a long haired lass dressed in a loose white dress.
But the main man at Westminster is America's Master of the Macabre, Edgar Allan Poe. EAP died on October 7, 1849 on the sidewalks of Baltimore, and was buried in Westminster Church Cemetery.
He only died once, but he has two graves at Westminster. His original marker is near the back of the cemetery and is a headstone with an engraved raven. He actually went quite a while without a stone; his memorial was shattered in a train accident on the way to Baltimore.
The second is a monument added in 1875 after Western Female HS teacher Sarah Sigourney Rice and Baltimore school children waged a "Pennies for Poe" campaign to build a proper memorial. It's where he's actually buried now.
In commemoration of their success (George Childs actually covered half the cost, but hey...), it's a tradition for visitors to leave a penny at his grave site even today.
Everyone knows the story of Poe's birthday visitor, and he's not a spook. But did you know that Poe himself makes the rounds at Westminster every so often?
He's been seen in the grave yard, mostly around his birthday but also at other times throughout the year. Poe is reported to be dressed in black, wearing a waistcoat, broad brimmed fedora, and a scarf covering his face.
Edgar Allen carries a walking cane topped with a silver cat's head, and has even talked to some of the people who have seen him. Poe's also been reported in the catacombs.
Hey, Westminster Burying Grounds is beaucoup popular. Beside ghost and Halloween tours, it's been featured on "Sightings - The Ghost Report," and episodes of "Creepy Canada" and "Scariest Places on Earth."
And you can't beat the price of a visit - it's free, except for the penny you have to leave for Edgar Allen Poe.