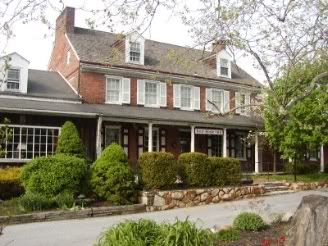 The Red Rose Inn from Loop Net
The Red Rose Inn was built in 1740 in what's now West Grove, Chester County, on an Indian trail used by both the Lenni-Lenape and the settlers (now the Baltimore Pike) in an area known as "No Man's Land." The property was part of William Penn's grant. It grew rapidly, and many of its' buildings still date back to 1827 or before.
The Red Rose's basement bar area has been victimized by poltergeist activity such as objects being moved, electronics being played with, and a shattered mirror, blamed on Indian Joe (see below). The customers and staff have seen several older spirits there, too, mostly women but also one particularly noticeable old man. He's hard to miss in his loud plaid jacket. They're shy spooks, and disappear in a flash when approached.
The headliner spirits are Emily and Joe. Emily is a young girl that Joe, a Native American, was accused of killing. The locals hung him, only to discover he was innocent. Oooops! They found the real killer wandering in the woods, drunk.
They buried poor Joe in the cellar wall, wrapped in a white sheet, so that there wouldn't be a grave outside to remind them of their rush to judgement. His spirit still inhabits the Inn, roaming the rooms looking for a way out.
But Emily is the most visible ghost. She's been seen on the steps and the main floor, wearing a fancy dress and carrying a doll, still living out her childhood that was so despicably ended.
There's also one other quirk about the Inn. It's called the Red Rose because of its' rental agreement with the original Penn family, which came about when William Penn spent a night there and paid his tab with a single red rose. The annual rent is, to this day,
is one red rose
, and the deal dates back to the original deed.
This old rite went dormant for awhile, but was revived in 1937. Almost every year since, a direct descendant of Penn receives a rose from the Inn's owners in a public ceremony in Philadelphia on the Saturday after Labor Day.
The bad news is that last we looked, the building was up for sale. The good news is that if you're looking for an inn with a history...