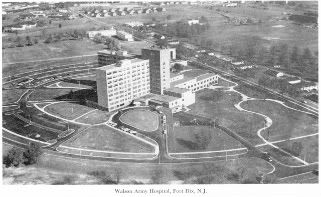 Walson Army Hospital - Fort Dix
Located in central New Jersey, Fort Dix is named for Major General John Adams Dix, a veteran of the War of 1812 and the Civil War.
It has been training soldiers since its founding in 1917, including
H&H
back in his Army days. In fact, more than three million men and women have passed through its gates since it was established as one of the original sixteen Army training camps built for World War I.
Today, the camp is a major training and mobilization center for the Army Reserve and National Guard after barely evading closure. Fort Dix also lies almost entirely within the Barrens of New Jersey, and we all know what that means.
There have been, as paranormal starters, many reported sightings of the Jersey Devil by soldiers during World War II, with a resurgence in the 1990s. Well, hey, that's to be expected; the Barrens is its hangout and the Devil is Jersey's unofficial state monster.
But Building 5418 at Fort Dix, the Walson Hospital in its heyday, is spook Central. The structure is a clinic now with its top five floors shuttered, but once hosted a psychiatric ward and its basement was the fort's morgue, a deadly duo of apparition generators.
Walson is without question the most active spot on the installation. Accounts of floating orbs, the opening and closing of doors and windows, lights going on and off, unexplained drops in temperature, sense of presence, furniture getting tossed around, electronics going haywire - pretty much the gamut of spectral trickery.
The top of the spectral food chain includes the sightings of orbs and ghostly visitors. The former morgue and psychiatric ward are usually where the eerie stories originate.
Most of the poltergeist-type activity happens on the seventh floor, the psych ward. That's also where the orbs appear, along with all the other ghostly going-ons.
The OB floor is another place where the dead don't rest. At one point, it's successful delivery rate was said to be just 60%, an embarrassment to even third world countries, and eventually Fort Dix's deliveries were handled by an off-base hospital.
There are regular stories of babies crying. It's also home to an eternal orderly. The OB floor is always said to be always freshly mopped. There is a mop and bucket propped in a corner that remain from its working days, and the floor seems wet, with foot prints across it, but the mop and bucket are bone dry - and have been for years.
The morgue is where the ghosties hang out. It's reported that you can feel and see the spirits in the basement, and that if you sit in the old gurney, ghostly hands will push you towards the body cooler. Brrrr! Another story involves the sounds of a grown man crying. People believe that a spirit watches the base at night through the morgue windows.
The hospital isn't the only place that's home to shadows. There's a couple of places near base housing units that have eerie reports, too.
Kennedy Court residents on Pemberton Road have reported glowing red eyes that peer at them from the nearby woods at night, and a trail that no wildlife or even sound crosses. Garden Terrace neighbors on Cedar Street tell of a teenage boy, dressed in jeans, a jacket, and red cap who can be spotted walking down the street...and then disappears right before your eyes.
But time may be running out for you to get in on the spectral fun at the hospital. The Army doesn't allow tours, and Walson, as we understand, is slated to be demolished with all its bad ju-ju. But last report, it still stands and lights still flicker, even without electricity...