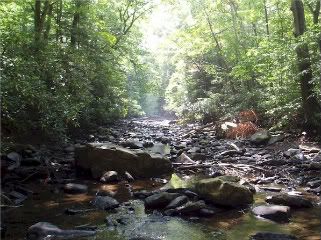 Dunbar Creek image from High Country Fish
Between Ohiopyle and Dunbar in Pennsylvania's Fayette County lies the Dunbar Mountains, and that's where Betty Knox and her legend originate.
Betty was born in 1842 on a farm at Kentuck Knob atop the Great Gorge of the Youghiogheny (now Ohiopyle State Park). Her mother died when she was three, and her father raised her as a son. She did all the hard work of a nineteenth century farmer, clearing, plowing, planting, weeding, and reaping. In between, she raised the cattle, cut the wood, drove the ox teams, and of course cooked the meals.
When she was seventeen, her father died, and she was left to her own devices. Betty, despite the hard work, had turned out to be a beautiful, flaxen-haired girl, and had no shortage of suitors, being lovely, single, and a property owner. But she spurned all the locals and lived a solitary life.
Knox earned her daily bread by hauling grain to Ferguson's Mill near Dunbar, powered by her oxen, and returned with flour, a day-long, twenty-five mile trek. In fact, she traveled such an undeviating route that she carved her own trail through the forest.
Where her journey crossed Dunbar creek is still known locally as Betty Knox Park, along with the fresh water spring that she lined with stone.
One evening in 1862, while on the way home from the mill, she found a badly wounded soldier, who told her he had deserted from the Union Army. Betty took the soldier home, hid him from the Army, and nursed his wounds. She became smitten by her soldier, but despite long months of Betty's TLC, he finally died. Knox, although heartbroken, returned to her routine.
Years later, Betty Knox, who had never missed a day of work in her life, suddenly quit showing up to collect the farmer's grain. Alarmed, the neighbors went to her home to see if she was sick, but the house was empty. Search parties swept the forest and retraced her trail, but found not a sign of her.
Theories concerning her disappearance abounded. Some claimed that wolves or a panther had attacked her, while others darkly speculated that a rejected lover had ambushed her, or perhaps a gang of thieves.
Others thought that she had never gotten over losing her soldier and plunged to her death in the Youghiogheny River. It may have been that she was just tired of her life in the woods, pulled up roots, and found a new home. To this day, no one really knows.
The following spring some children found the skeleton of an ox chained to a tree near Betty's spring; odd, because that very trail had been scoured by her search party without finding the ox, and also because Knox never used a chain on her animals. Still, that didn't explain what happened to Betty Knox.
But one thing is certain - Betty Knox is still around, at least in spirit.
Young couples out for a late night drive claim to hear the mournful lolling of oxen miles from the nearest farm. Park visitors report hearing her sobbing. Sportsmen tell of a pale feminine form that flickers through the trees before daylight. Others report seeing a woman leading an oxen team along the trail. And on some dark nights, the pained voice of a young man can be barely heard whispering "Betty Knox, Betty Knox."
(As a footnote, you may not have to worry about running into Betty's ghost. An enterprising local claimed to have captured it in a mason jar, and sold it on eBay for $2.51. Now there's a legend for you, and at a blue light price!)
If you're curious, Betty Knox Park is now part of the State Gamelands, located off Dunbar - Ohiopyle Road about three miles from Dunbar. Look for a Game Commission building on the right at a sharp curve. The gravel road to right of the shed (called "Betty Knox Road" but without any signage) will take you along Dunbar Creek to where Betty's oxen were found.
H&H rummaged through several sources for this post, but the best tale by far is told on the Connellsville Ghost Stories site.