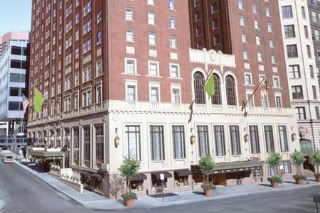 Radisson Plaza Lord Baltimore Hotel
The Radisson hotel was named after George Calvert, aka Lord Baltimore and the founding father of Maryland. The 23-story hotel, opened in 1928, was built in the Art Deco style popular during the decade and was the largest in the state at the time. It's a historic landmark hotel and a member of the Historic Hotels of America.
How haunted is the old building? Hard to say. It's spooky lore seems to stem from the keyboard of Paul Schroeder, who wrote
"A Haunted Hotel in Maryland"
for
TravelParanormal.com
.
One story involved an alleged suicide on the 19th floor, and the elevators' constant trips up there at night, with no one ever getting in or out of the car.
Another sighting, not reported by Schroeder, is of gangster-type spooks haunting the Lord Baltimore's halls, apparently reliving the high life of their wise guy days.
Guests, particularly those sensitive to the paranormal, have complained of nightmares, touchings, and other signs of presence from the other side.
A long-time employee, Fran Carter, was Schroeder's mother lode of tales. One story is of three people standing in the moonlit ballroom, each positioned in front of a window, gazing at the ceiling.
Carter passed within feet of the trio, even noting the brass buttons and ascot of one of the men. Likely assuming they were checking out the hall for an event, she offered to turn on the lights. As soon as she hit the switch, they disappeared.
She also related that she saw a little girl wearing a long cream colored dress and black shiny shoes run by, bouncing a red ball and going through an open door into the hotel hallway. Carter chased after her, thinking she was lost. The hallway was deserted.
Turning around, she spied a well-dressed older couple in tux and gown. Thinking they were looking for the runaway child, she pointed down the hall. The couple vanished in front of her eyes.
That was on the dreaded nineteenth floor, and that little girl is the star ghostie of the hotel. She's been reported several times as a screaming child in a long gown, crying and rocking herself back and forth. Whether she has a part to play in the suicide tale, no one knows.
If you ever visit Charm City, get a room on the nineteenth floor of the Radisson Plaza Lord Baltimore. You can let us know if Paul Schroeder and Fran Carter are right.