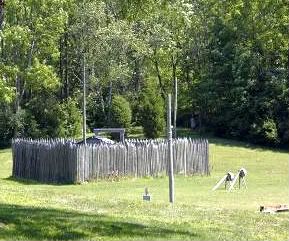 Fort at George Rogers Clark Park
OK, first, let's not get lost. This isn't the national park in Indiana or the City park in Louisville, but a local park in Clark County, Ohio, by Springfield. Still, it's an impressive little area; they pack a lot of attractions into its 250 acres.
This is where the Shawnee village of Peckuwe (Piquia) and a small British stockade stood until Colonel George Rogers Clark drove the combined Shawnee, Delaware, Miami, and Wyandot tribes out of Clark County on August 8th, 1780.
The Battle of Peckuwe was the largest action of the American Revolution west of the Allegheny Mountains. Standing beside the local Miami, the other tribes had been pushed out of Pennsylvania by the white settlers and were trying to draw a line in the sand in Ohio.
Beside fishing, picnicking and other outdoor goodies, the park features the George Rogers Clark Memorial and the Davidson Interpretive Center, which gives a history of the battle and the era. The Hertzler Museum is there, too; more on that later. In 1980, a triangular fort and blockhouse, modeled after the larger one in the village, were built. There's a lotta Ohio history on display there.
Of course, shades of the big battle's participants have been reported; Indians, colonial soldiers, and even ol' George himself have been sighted roaming the fields. Hey, the spirit of frontiersman Dan'l Boone, a long time foe of the Shawnee and active in Ohio Valley campaigning against them, is supposed to be a ghostly park visitor.
The star spook attraction may or may not be the Hertzler House. Daniel Hertzler, whose land the park sits on, built the home in 1854 for his wife and ten children, and was killed there in 1867 by robbers looking for the banker's rumored cache of cash.
It's now a museum and supposed to be haunted by Hertzler, whose murderers were never captured. The legend is that a face can be seen peeking out the window from the road.
It's believed by conspiracy theorists that tour guides avoid talking about the lore for fear that people will stop visiting the park. Others say the guides avoid the topic because it's hogwash and they don't want blamed for noisy ghost hunters nebbing through the neighbor's windows at night in search of ectoplasm. Both sound plausible enough.
If you ever get to visit the park, there are exhibits aplenty to learn the Ohio Valley's colonial history. And if you're lucky, you may even get to see some of the folk who made that history at the same time.