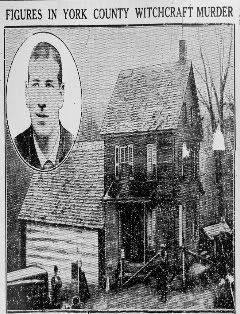 Nelson Rehmeyer image from Dagger Press
Also known as Hex Hollow, this site in Shrewsbury, York County is home to the infamous 1928 Pow Wow (Pennsylvania Dutch witch doctor) murder of Nelson Rehmeyer.
The short story is that Rehmeyer was a self proclaimed Pennsylvania Dutch witch doctor. Neighbor John Blymire, another pow-wow doctor experiencing a streak of bad luck, was told that he had come under the hex of Rehmeyer by Nellie Noll, known as the River Witch of Marietta.
Blymire decided to break into Rehmeyer's home in search of a book of spells; burning the book or burying a lock of Rehmeyer's hair would remove the hex, according to Noll.
He went to Rehmeyer's home with two companions, and Blymire found Rehmeyer, demanding his hex book. A fight ensued, and the trio killed Rehmeyer, effectively ending one curse and starting another, compliments of the Pennsylvania court system. He got life for his crime. The Hex Murder was the trail of the era, and probably as close to a witchcraft trial as the state had in over three hundred years.
Rehmeyer's home, known as the Hex House, just became a museum in what's now called Spring Hollow Park. It's said that if you are in the area, you may see the faces of people that have died in Hex Hollow floating about. Cars in the area stall out for no reason.
It's also said that you can't get back to the main road from the same road you came in on, because they morph into a maze when you're by the Hex House. Cell phones often go on the blink in the area, so don't look for your GPS to bail you out.
One reader from the area wrote to debunk the tales. "I'm a local and most of the things said aren't true. However, do be careful. It can get a little strange, especially near the pond where it is said they threw bodies into as if it were a grave site."
The book
Hex
by Arthur Lewis was written about the murder. Brian Keene wrote two novels loosely based on Rehmeyer's Hollow and the region's powwow magic:
Dark Hollow
and
Ghost Walk
.