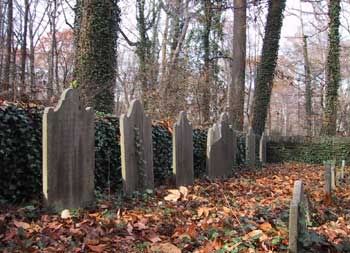 Harriton Family Cemetery from the Lower Merion Historical Society
The Harriton House, in Bryn Mawr, Montgomery County, dates back to 1682 when it was a 700 acre land grant given by William Penn to Rowland Ellis. The first home was built by Ellis in 1704 and was called Bryn Mawr, meaning "high hill" (the town is named after the house). It was sold to Richard Harrison in 1719.
Although a Quaker, Harrison was a tobacco farmer from Maryland. He grew tobacco at Harriton too, and employed slave labor to farm the crop. It's thought, in fact, that Harriton (Harrison had married Philadelphian Hannah Norris in 1717; some of the vast Norris family holdings were known as Norriton, thus their land became known as Harriton) was the northernmost slave plantation in America.
One of his slaves was named Tuggy, who knew some voodoo. She and some other Harriton slaves despised life in Pennsylvania and badly wanted to return to their Maryland families.
Tuggy tried to kill her hated owner, first by poisoning his morning cup of chocolate. But a timely knock at the door saved him from drinking the concoction and foiled the plot, so she came up with a Plan B.
She went to the graveyard with a wooden stake. Some think Tuggy was planning to use necromancy by raising a body from the dead to do her bidding, while others believe she was trying to cast a death spell on Harrison. Whichever, it worked - but on the wrong victim.
A bloodcurdling scream was heard from the graveyard that night. Being superstitious, no one dared venture into the boneyard until morning. There they found Tuggy's body, staked to a grave plot.
The legend says that she accidentally drove the stake through the hem of her dress, and Tuggy thought that a dead man's hand was pulling her down into the grave to join him. She died of fright.
(The house is a Historic Landmark and is now the centerpiece of a 16-1/2 acre park)