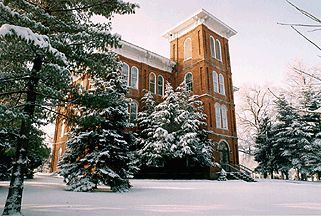 College Hall
Wilmington College of Clinton County was founded in 1870 by members of the Religious Society of Friends (Quakers). This affiliation continues today. It offers a wide ranging education: it's the only private school in Ohio to offer an agricultural degree, and also features the largest depository of materials outside of Japan relating to the atomic bombings of Hiroshima/Nagasaki.
The college is also home to the Meriam R. Hare Quaker Heritage Center, a museum, gallery, and meeting house. It's been said that Wilmington College is the most visible legacy of Quaker culture in southwest Ohio. Its offices are even located on Quaker Way.
But there are no Quakers haunting the halls of Wilmington, nor farmers nor A-Bomb victims. Nope, just a couple of old nags that won't leave College Hall.
The first Wilmington College building, College Hall was built in 1866 as the site of Franklin College, a non-sectarian institution which went out of existence in 1869.
On August 11, 1870, the college was auctioned to a group of local Quakers represented by Civil War Colonel Azariah Doan, a Quaker officer famed for being unarmed while leading his men into battle. That's living the Book.
The institution was renamed Wilmington College, and construction resumed so the single-building college could open in spring 1871. It was dedicated April of that year, with the first day of classes commencing the next day.
College Hall or Old Main, as it was often called, has served many purposes; now it's the administrative and faculty offices and several classrooms. In 1972, it was added to the National Register of Historical Places.
The first haunted horse belonged to Azariah Doan. When the steed, "Ole Bill," passed on, the good Colonel decided to bury its remains between floors of Old Main for reasons only Doan knew. In 1957, Ole Bill's skull was put on display in College Hall, part of its complete skeleton which was found during renovations.
The other galloping ghost parades on the top floor. According to college legend, a student prank, pulled off decades ago, involved locking live farm animals in the building. An unfortunate horse went berserk and injured himself so badly that he had to be shot.
Both horses are blamed for the clip-clop sound of horse hooves on the tiled hallways of Old Main, as well as the sound of snorts and whinnies.
There was one other tragic incident in the building. During the early days, the long smooth banisters on the stairways leading to the second floors tempted the students to slide down them. In 1899, Ethel Sparks, sliding down the banister with her arms full of books, fell off the rail, struck her head on the floor below, and later died. But there has been no reported return visits by the unfortunate Ms. Sparks.
If phantom horses don't get your paranormal juices flowing, there are a couple of more traditional haunts in the town of Wilmington.
One fright site is the Haw Chapel Cemetery, just outside of Wilmington. The small cemetery has a tombstone that sits underneath a small grove of trees and can be seen to be glowing from Haw Chapel Road.
The Snow Hill Country Club is allegedly so spooked out that they have a regular "Dinner and a Ghost" feature every October, the "200 Years of Whispers Haunted Tour" and a "Sleep With a Ghost" room special.
The main hotel building dates to the 1820s and has been plagued by mysterious occurrences for a long time. Most of the spooky reputation has been validated by EVPs and orb pictures; there isn't much in the way of full-throated screaming meemies reported from the CC.
Finally, there's the Old Mill, an old-fashioned haunted house that was built before the civil war. Here's how its story goes:
A Civil War vet brought back a small pack of illegal slave children to help him take care of his business and home. The man would beat the children constantly for doing little things, sometimes just for laughing. They were better off as slaves, which was what they were to the old soldier.
One night while the man was sleeping, the children entered his bedroom and killed him.
It's said today that you can see the rug rats running around at night and hear their cries. Sometimes you can actually see the kids reenacting their revenge. And you can sometimes see a man and two children standing in front of the mill. He'll be holding one child's hand and with the other he will be holding his hat across his heart, staring at you. Brrr!
Now we couldn't find any mention of an old mill in Wilmington. But there is an Old Mill mall, a group of antique/collectible dealers that have turned an old feed mill into a shopping mecca. So if you're local and can help us out re: the Old Mill and whether these buildings are one and the same, give as yell.