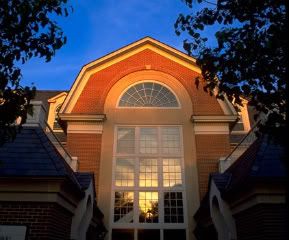 Seibert Hall
Located in Selinsgrove, Snyder County, Susquehanna University is a small, liberal arts school that was founded in 1858 as the Missionary Institute of the Evangelical Lutheran Church and Susquehanna Female College. And like so many of its' sister schools, it lays claim to a haunted library and theater among other venues.
Blough-Weis Library:
Students working in the library basement at night have felt a presence watching them and seen an occasional apparition, followed by intense cold afterwards. No one knows who the spirit is.
Charles Degenstein Campus Center:
Charlie the ghost has been seen atop the catwalks and in the audience of the Degenstein (not Digestion, as often reported) campus theater in the "Deg." He's such a well known figure there that Charlie's Coffee House located in the Center is named in the ghost's honor.
Seibert Hall:
Seibert is a colonial-style building and listed as a national historical landmark. Many students living there say they have experienced objects moving and have heard strange noises in their rooms. A former resident of the building said, "I used to see objects frequently fall off my desk and shadows of people when no one else was in the room." Dowsing rod divinations found that the spirit is that of a little girl who enjoys playing tricks on students.
Trax:
Trax is a student-designed nightclub and entertainment venue. It's said to house the ghost of a worker who died in the building when it was a warehouse. Many employees claim this spook has played tricks on them, such as breaking props, throwing glass and pushing people down stairs. The spirit also told psychics that he gets lonely at Trax and enjoys seeing and interacting with the students. This spook is considered friendly if somewhat mischievous.
Weber Chapel Auditorium:
The Chapel Auditorium holds 1,500, and hosts numerous university events, guest lecturers and visiting artist performances as well as chapel services.
A faceless spook has been spotted numerous times in the Auditorium. The ghost has mostly been sighted in the basement. Dowsing rods detected a middle-aged male ghost who had some relation to the Phi Mu Delta fraternity.
Former frat members believe the shade may be that of Charles Degenstein of "Deg" fame, as he not only matched the description but had a son who was a member of the fraternity. Many have felt a strong breeze and some claim that they saw a dark figure moving among the auditorium seats. Old Deg must really love the stage!
And one of our readers wrote in to tell us that we may have only reported the tip of the iceberg: "There are a lot more occurrences that happen on campus, such as multiple ghost (sightings) in Sorority houses, one which was exorcised." So give us a yell if you can add to the SU lore.