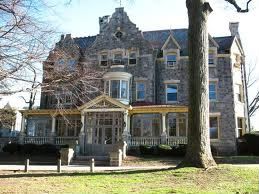 Ravenhill Mansion from Skyscrapers
Philadelphia University in East Falls was founded in 1884 as the Philadelphia Textile School, established to educate America's textile workers and managers. The School continued to grow, and in 1961, changed its name to Philadelphia College of Textiles & Science, becoming Philadelphia University on July 13, 1999. And as anybody from Philly knows, you can't stay in one place that long without picking up a spook or two.
Fortress Hall:
This was formerly a classroom for Ravenhill Academy (see below) and is now a woman's dorm. It hosts a variety of poltergeist-type activity: objects being moved, windows opening and shutting on their own, and touchings in the form of taps on the shoulder when no one else is nearby. There have also been many orb pictures taken inside the Fortress.
Ravenhill Mansion:
Ravenhill Mansion was built in 1802, bequeathed to the Catholic Diocese in 1910, and opened as the Ravenhill Academy by the Religious of the Assumption, an order of nuns. It became Philly U. property in 1982 and the historic house is today used for offices. The tale goes that a nun was impregnated by a priest, and shamed by her act, hung herself in the attic. Natch, the attic has been closed off for years - the spooky sister's sightings date back to Ravenhill Academy days - but people have seen lights flitting about in it. More eerily, it's said you can sometimes catch sight of the sister, too, especially if you perch on the hill opposite Ravenhill at daybreak.