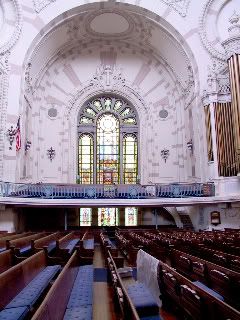 Naval Academy Chapel from Wikipedia, photo by Dan Smith
The Naval School was established on a 10-acre Army post named Fort Severn in Annapolis, Maryland, on October 10, 1845, with a class of 50 midshipmen and seven professors. In 1850 the Naval School became the United States Naval Academy.
Since then, it's been churning out top rate sailors, a couple of which have never left the USNA.
John Paul Jones
was the captain of the Bonhomme Richard in the Continental Navy during the Revolution who famously said "I have not yet begun to fight." Jones is buried in the academy's chapel and now said to meander around the Chapel grounds. He's even spoken to his gate guard sentinels, reducing one to a babbling mess.
He's a busy ghostie; JPJ is also reported to haunt the John Paul Jones house in Portsmouth, New Hampshire, where he lived when he was overseeing the construction of the ship America, and had a mistress (one in every port, right?).
James Sutton
was a lieutenant who died at the academy in 1907 under suspicious circumstances. The Academy said it was suicide, but his ghost appeared to his mom and told her he had been beaten and shot. A second investigation proved he was right, although the perp was never found.
His ghost has been sighted by many witnesses on Annapolis' grounds, in buildings, floating above the academy's fence, walking through walls, peeking into windows and hovering over Midshipmen's beds.
There are also tales of spirits haunting the
campus tunnel system
, nicknamed the "Ho Chi Minh" trail during the Vietnam era. They're supposedly the shadows of first-year students who entered the system through manhole covers and died before they could find their way out. Whether this urban legend is more a cautionary tale for adventurous frosh to keep out of the tunnels or not is a coin toss.
Another haunt that is associated with the Academy is the
Brice House
, which at one time was rented out as a residence for VIP visitors and USNA professors. The downtown Annapolis home is said to be the most spooked out building in the town.
The spirits of a murdered owner, Thomas Brice, and his valet have been seen (the butler was either the murderer or a second victim; history is unclear on that tidbit) roam the halls. Juliana, Brice's mother and a popular hostess, has also been sighted.
Other unidentified spirits have been reported, and voodoo artifacts left behind by the black servants and a skeleton buried in the wall have been found.
Anchors aweigh!