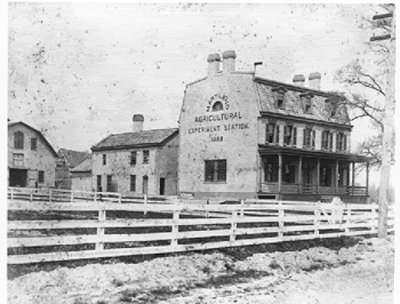 Rossborough Inn
The University of Maryland completes our regional road trip of spooky schools. The UM campus is at College Park, near to the hyper haunted towns of Baltimore and Washington, DC. And it holds its own in the realm of the paranormal.

Alpha Omicron Pi House:
The girls claim to have seen and heard the ghost of a sorority sister who died in a 1995 car accident. Other phenomena include music suddenly playing, computers humming away on their own, and objects falling or moving on their own accord. It's also been reported that at least one AOP sister saw a disembodied pair of red eyes staring at her.
Davidge Hall:
Davidge Hall is the oldest medical school building in the western hemisphere. One of its quirks is the fact that there are many escape routes from its rooms, dating back from the day when students sliced up cadavers illegally brought to them by grave robbers.
But for all that history, the Hall is gently haunted. Many people have a feeling of uneasiness while in building, and report hearing unexplained sounds and voices. It's not very spooked out for a body chop shop.

Delta Tau Delta House:
Soon after a fraternity brother was killed in an auto accident in 1955, there were reports of strange happenings in the house. Furniture was shifted around in the middle of the night. The cook was afraid to be in the kitchen because a piece of the dead brother's furniture moved itself there, and a cabinet was always warm to the touch inside. Chairs move by themselves late at night.
This was based on a 1976 story, so whether the DTD house still is home to its departed brother's presence or not is unknown.

Easton Hall:
The story here is that a freshman committed suicide by jumping out an window in the 1990s, and his spook still haunts the eighth floor of the co-ed hall.

Kappa Delta House:
University Registrar Alma Preinkert was much beloved on campus. The entire UM community was stunned when she became the victim of an unsolved murder in her Washington, D.C. home in 1954. That held specially true for the KD sisters. Alma was a founder of the Kappa Delta sorority at Maryland.
She's said to haunt the halls of the sorority house she helped establish. And she's not alone; the shades of girls in white dresses dancing on the KD sundeck during the summer when the house is closed have also been reported. Otherworld rush, maybe?
Medical Center:
This building used to serve as a morgue. Custodial and security staff have reported hearing strange noises and sensing a presence at night, and a feeling of ill ease bordering on fear when they enter the basement, where the cadavers were on ice. Whether they're having a natural reaction to a death house or whether there are actually ghosties bumping things in the night we'll leave for you to decide.

Morrill Hall:
The Hall was built in 1898 and is the oldest campus building with its original facade intact. Workers found human remains under a sink while renovating the Hall, but it's paranormal claim to fame has more to do with sensations than spooks. The custodial and maintenance staff have heard noises late at night, and claim that people trip and fall with some netherland assistance.
But it's most known for its mysterious smells. Morrill Hall's lore includes the Thanksgiving fire of 1912, in which it was the only building to survive the blaze. It's alleged that to this day, you can still smell the smoke from conflagration that almost claimed every structure on campus.

Marie Mount Hall:
Constructed in 1940 as an addition to Silvester Hall, its walls and ceilings slant at odd angles to merge with the old construction. It went by a couple of names - the Home Economics Building and the Margaret Brent Hall - until in 1967 the Board of Regents renamed it Marie Mount Hall in appreciation of Marie Mount's contributions in home economics at the university.
Campus employees claim to have seen Mount's ghost and heard her playing the piano on stormy nights, and on Halloween evening. A portrait of Marie Mount is said to watch the Hall's visitors, its eyes following their every move around the room. We guess the old Home Economics Building is the perfect eternal home for its matron.

Patterson Hall:
It's allegedly spooked by a mist. An employee saw a shadow move across the wall while working alone in the building. Not the most solid case for a haunting, but hey...

Rossborough Inn/Carriage House:
The Inn was built between 1804 and 1812 by John Ross, a tavern keeper. The land passed through various hands until it became part of the Calvert family holdings. In 1858, the Calverts sold 420 acres of their land, including the Rossborough Inn, to the Maryland Agricultural College, later to become UM. It's also the home of Miss Betty.
Miss Betty is alleged to have been a Civil War nurse that tended to her charges at the Rossborough Inn, and apparently she took a liking to her surroundings.
She's one of the most sighted ghosts on campus, described as short with dark hair and wearing a yellow dress. Miss Betty has been credited with turning the Inn lights on and off, showing her face in the mirror, and setting up vases with fresh flowers.
There's also lore about about a dualist who fought more bravely than well outside the Inn, and died in one of its rooms. His blood is said to reappear on the floor.
In the attached Carriage House, there's reports of two spirits sitting on stools in the first floor restaurant.
Stamp Student Union:
The SU hosts a myriad of campus organizations, and they report some hazardous working conditions. Lights go on and off, elevators run by themselves, doors open and close unaided, and there are cold spots. A fire went through the building years ago, and the smell of smoke is still present. And this is where a student goes to relax?

Washington Hall:
Ill-fated hoop star Len Bias' ghost is rumored to still be bouncing basketballs in his former residence hall.
But in spite of all those tales, we still think the strangest thing to haunt Maryland's campus is the statue of Jim Henson and Kermit the Frog, in front of the Stamp Student Union. Terrapins and frogs, oh my...


Picture from Wikia