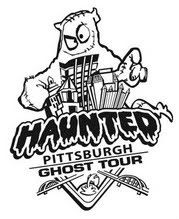 Hey, we briefly interrupt our creepy critter tour to tout Haunted Pittsburgh to our local readers and City visitors.
H&H
's hometown has spooks galore, but up until now, nobody has ever bothered to set up a vehicle to acquaint us with Pittsburgh's paranormal past.
And what better way to get into the Halloween spirit than with some 'Burgh boos?
First, you can get the sit-down version of the Steel City's spooks at the allegedly haunted Gypsy Cafe in South Side on 1330 Bingham Street. HP offers "dinner served with goose bumps," Wednesdays through Halloween: October 7th (7:30 start), 14th (7:30 start), 21st (8 pm start), and 28th (8 pm start).
Special Monday dinner shows October 12th and 19th feature a medium and tarot card readings. Call 381-4977 to reserve a spot for a meal and some macabre myths.
You'll be tormented by tales of spooked-out North Side mansions, Henry Clay Frick and Clayton, Roberto Clemente's premonition, Fallingwater's specter, Kaufman's ghost, and the Johnstown Flood legacy.
For the more adventurous, Haunted Pittsburgh offers a walking tour of South Side haunts, starting at the Carson Street Deli at 1507 East Carson Street, and departing at 7 and 8:30 every Friday and Saturday night. Give HP a call at 381-5335 if you like your ghosties close up and personal, click on their
web site
, or e-mail them at
Haunted Pittsburgh
. Of course, you could just walk up to the Deli and buy a ducat, too. That works.
Haunted Pittsburgh is the love child of attorneys Michelle Smith and Tim Murray. They've collected and researched some of the Three Rivers' otherworldly history, and decided hey, if ghost gambols work in Gettysburg and New Hope, why not here?
So if your only experience with Pittsburgh's spookdom is the Zombie walk, check out Haunted Pittsburgh. It sounds like a screamin' good time.
(And no, H&H is not associated with HP nor has been bribed by any ghoulish goodies. We just felt like someone working the same side of the Steel City's spectral street deserved a little love.)