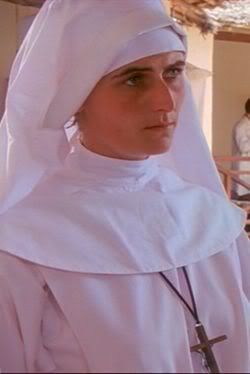 White Nun from Wikipedia
On November 23, 1963, Liberace was scheduled to play a gig at Monroeville's Holiday House in suburban Pittsburgh. Assuming the show would be canceled because of JFK's assassination, he busied himself with cleaning his costumes. He used a cleaning solvent with the toxic carbon tetrachloride as its' base.
Liberace napped once or twice in the unventilated room, and it almost cost him his life. While performing, he collapsed on stage and was rushed to St. Francis Hospital in the City's Lawrenceville section, suffering from kidney failure from inhaling the deadly fumes.
The doctors told him to get his affairs in order while hooking him up to a new device for that time, a dialysis machine. He was given a 20% chance of surviving. During those long nights, drifting between life and death, he dreamed of many things.
But he recalled one vision clearly, and it was a turning point in his recovery. As he later wrote in his autobiography
The Wonderful Private World Of Liberace
:
"A very young and lovely nun wearing a white habit came to see me late one night, when I was very near death. She said she was going to pray to Saint Anthony for me, and he would make me well.

The very next day, I began to get well. I described the nun to the Mother Superior at the hospital and asked who she was. The Mother Superior said 'There are no nuns in the hospital who wear white habits.'"
Of course, there was no nun in white at the hospital. The Franciscans wore dark habits. Did St. Anthony send Liberace an etheral messenger, or was he just the fortunate recipient of Dr. Thomas Allen and Dr. Frank Mateer's deft handling of the new fangled dialysis machine?
Maybe they go hand-in-hand, with the spiritual realm coming to intercede in the work of the physical world. After all, not all spirits are evil harbingers.
Dialysis took off after it saved Liberace, and St. Francis Hospital gained a new, life-long benefactor. He raised funds for the hospital, even having a lobby dedicated to him, and made sure that the sisters had tickets whenever he performed in Pittsburgh.
Saint Francis Hospital, like Liberace, doesn't exist anymore. It's been replaced by a modern, state of the art Children's Hospital. But hopefully, the good sister in white will stay to watch over her youthful charges as diligently as she watched over the showman. The story is also recounted in his biography
Liberace: An American Boy
by Darden Asbury Pyron.