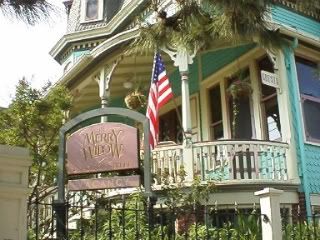 The Merry Widow
Hey, it's been a while since we've taken a road trip, and while it's not summer yet - darn groundhog! - we decided to head east to the Jersey seashore and Cape May.
Founded by Dutch explorer and seaman Cornelius Jacobsen Mey, the town began as a whaling community in 1620, named Cape Mey. By 1720, it was known as Cape May and had morphed from a whaling port to a seaside resort town.
It also picked up the reputation as New Jersey's most haunted city over the centuries, making it the perfect vacation Eden for us. First we visited the Queens Hotel, on Ocean and Columbia Avenues.
Now it's a nicely laid-out bed and breakfast. It began in 1876 as Ware's Pharmacy, a local apothecary. But you could get more than a prescription filled there; it also sported a speakeasy, a gambling den and a third floor brothel. Well, it was a resort, and you gotta keep the tourists healthy and happy, right?
One city-wide fire raged through Cape May in 1878 and damaged the Ware's Pharmacy building, and it had to be extensively remodeled. It became bigger to support its thriving businesses, and was rebuilt ala the then-current Victorian architectural fad.
And one of its working girls is still working the house. Her haunted hang out is on the third floor where the old cathouse operated, and she's been blamed for all sorts of little antics.
You can tell when she's present by a powerful scent of perfume drifting through rooms and the accompanying cold spots. She also likes to play around some, moving objects around and rearranging the furniture more to her liking.
The ethereal lady of the evening has more physical attributes, though - she enjoys bumping into the upstairs beds, where she no doubt spent a great deal of her time.
Even more cattily, she's been known to jostle the other lady guests in the upstairs hallway, maybe in jealousy, or maybe just to let them know that they're intruding on her territory. Can't make any money if there's too many girls on the same corner, hey?
If you want to avoid her, local lore says she's just looking for a little appreciation for her services, so if you leave a buck or two on your third floor dresser, she'll consider her work satisfactorily rendered and will let you be.
That's the story of one working girl; we took a jaunt to Jackson Street - supposedly the most haunted street in the the most haunted city, how could we resist? - to check up on another, at the Merry Widow B&B. (Most of this tale is told by Susan Tischler in the
Cape May Magazine
.)
The spook here is an honest, hard working domestic, and dates back to the 19th century. She first became known to the owners in 1899, when the proprietor heard a knock and opened the door to a distinguished gent who asked if his old companion, Esmerelda, was still around - as a ghost!
As they spoke, the temperature in the foyer inexplicably dropped lower and lower. Feeling a little spooked, the landlady shut the door on her chilly visitor, but in a second reopened it, feeling a bit impolite and a lot curious. But, of course, all traces of the man were gone.
A short while later, one of the guests wondered if the home was haunted after seeing an unexplained female form wandering around on the first floor. Hmmm...
She asked the upstairs tenant if there was anything odd about her stay in the Turret on the third floor. "Nah," she says, "just the woman sitting at the end of the bed."
Now the innkeeper was worried. Haunted B&B's weren't exactly the rage at the turn of the century, and she knew her job was closely intertwined with the number of guests the Merry Widow took in. So in the off season, she did some exploring.
She discovered an old laundry chute under the third floor Turret bed, and found out the room belonged to a nanny named Esmerelda who worked for J. Henry Edmonds, the original owner of the house.
Did one of the kids come back looking for his old nanny? Is she still tending the place she called home? Or is the Merry Widow trying to drum up a little PR noise? They do offer a "Physick Tour," and the Inn is part of the Cape May Haunted Tour.
Hey, all we know is that the French Turret room is small, and been described as "spooky" by many of its guests, although we haven't found any of them willing to collaborate Esmerelda's presence.
So hey, go find out yourself. Jackson Street alone is supposed to have eight haunted homes, and Cape May has a list of eerie spots a mile long. My spook sensitive bud from Philly, LC, is fascinated by the place and assures me that there are more spirits there than you can shake a scary stick at.
These are just a couple of tales of gently haunted homes. Cape May seems like a place no one likes to leave - ever.