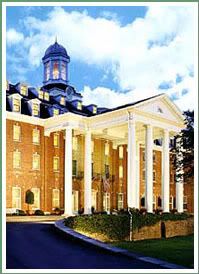 Otesaga Hotel
Upstate New York's Otesaga Hotel in Cooperstown was built in 1911 on the southern shore of Otsego Lake, the noted "Glimmerglass" of native James Fenimore Cooper's novels. Beside swimming and boating, its golf course is also quite popular.
Designed by architect Percy Griffin, the resort was named a "Historic Hotel of America" by the National Trust for Historic Preservation. The Otesaga is the ritzy - and pricey - hangout for local touristas.
And like any century-old hotel worth its oats, the paying guests aren't the only ones hanging out in the building. Otesaga is the Iroquois word for "A Place of Meetings," and some believe the Otesaga is now the meeting place of the living and the dead.
Staff and guests have reported floating orbs, moving objects and strange voices over the years. Beds made up by the maids on the third floor are found mussed up later. Staff members hear their names being called when no one else is about.
The night watchman regularly reports people walking around the second and third floors when no one is up, and the sound of a music box playing. A guest told the desk clerk that a woman's spook in a dressing gown was floating around her room on the third floor. A spirit couple have been seen walking hand-in-hand down its hallways in turn-of-the-century outfits.
But the most widely known legend is of the spooky children who have been heard running up and down the third floor hallway, noisily playing, giggling and laughing.
From 1920 until 1954, the hotel was also a private academy, the Knox School for Girls. The school suffered through a whooping cough epidemic, and the little girls who succumbed are supposedly frozen in time at the Otesaga and enjoying their childhood to this day.
But not to worry; none of the many apparitions haunting the halls of the Otesaga have any known evil intents; they're considered Casper friendly by one and all.
If you want to find out just how cordial the spooks are, tune into to Syfy Channel's "Ghost Hunters" with The Atlantic Paranormal Society (TAPS). They did a show there that was broadcast during the summer where every investigator experienced an Otesaga paranormal moment.