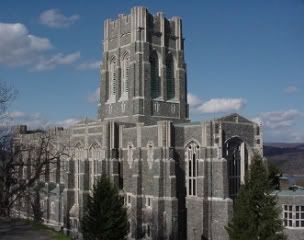 West Point from ATOS
OK, as we continue with our eerie college tour, we swing north to visit one of the most famous schools in the nation, the United States Military Academy.
From the day of its founding on March 16, 1802, a favorite expression at West Point is that "much of the history we teach was made by people we taught." Great generals such as Grant and Lee, Pershing and MacArthur, Eisenhower and Patton, Schwarzkopf and Petraeus, are among the more than 50,000 graduates.
And just to keep that history intact, a few of the old cadets have hung around.
--
Padlock Barracks:
There is supposedly a bedroom in the barracks, behind the padlock, where no cadet has slept in years. It's rumored to host a ghost that rises through the floor.
--
Pershing Barracks:
A cadet was returning to his room after his afternoon classes and saw his roommate by the window. Beside him was a figure of another cadet, who wore a full-dress uniform with crossbelts, a brass breastplate, and plumed tar bucket (shako) hat. Wondering why someone was in dress uniform, he asked his roomie who had been with him in the room. No one else had been there.
--
Professor's Row:
In the 1920s, a priest was called to a house on Professors' Row to exorcise a spirit that had caused two young, terrified, servant girls to flee, naked and screaming, into the night. Bet that caught the attention of the cadets!
--
Room 4714: 47th Division Barracks:
In 1972, roomies saw a Civil War era ghost dressed in full-dress grey coat, and an Union Army cap, carrying a musket with a bayonet. The next night, the room's temperature dropped and both cadets saw the shadow of a man's torso floating between the floor and ceiling, accompanied by numbing cold. Upper class chain-of-command cadets stayed in the room to check out the tale, some seeing the ghost, some seeing a mist, some seeing nothing at all, but all feeling the chill, which was verified by thermometer readings. The Academy closed the room until the summer, and nothing has ever been reported since...has the spook gone or just become classified information?
--
Superintendent's Mansion:
The manse is said to be haunted by the ghost of a Irish cook named Molly. She can often be found kneading bread in the basement kitchen. The spirit, known as "Miss Molly," is said to be the shadow of Brigadier General Sylvanus Thayer's maid of the early 1800s.
--
West Point Ghost:
Cadets have seen a 5'3" tall soldier dressed full Jackson-era regimentals, including a musket and a shako, a high plumed military cap worn by US soldiers up until the end of the Civil War era on the grounds. Maybe Napoleon likes to visit.
Hey, enjoy your visit there; it's actually quite gently haunted for a place of its history. But if you see a cadet wearing a shako...