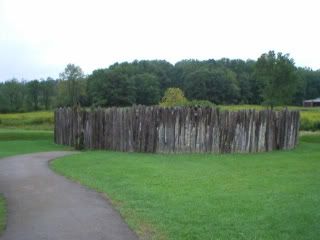 Fort Necessity from Grave Addiction
Hey, one thing that this region has is haunted forts; the French, English, and Americans all have left their share from centuries old campaigns.
We'll pop back into Pennsylvania for today's spooky outpost, a fairly famous one, Farmington's Fort Necessity. It's located in Fayette County, about fifty miles southeast of Pittsburgh. (If you know the area, it's where the Nemacolin resort is located.)
During the French and Indian War, George Washington led a band of intrepid Virginians and South Carolinians to Great Meadows in 1754 to boot the French out of their digs at Fort Duquesne.
First, things started off swell when the militia surprised a band of French. Seneca chief Half-King allegedly killed the French commander, an ensign named Jumonville, after the battle when he was a POW. Jumonville's brother, Colonel De Villiers, swore to take a little revenge on George and his Colonials, and got it after he attacked the fort five weeks later.
Washington built a round wooden fortification to hold off the French and their Indian allies. It didn't help. The Father of the Country got his powdered wig handed to him and had to slink back to Virginia, tail between his legs, after one-third of his men were killed or wounded in the battle. It would be the only time Washington surrendered a command.
He would come back later with General Braddock, and quickly learned getting whipped is preferable to getting massacred.
Considering all the mayhem, Fort Necessity is really quite gently spooked. Visitors have heard phantom gunfire and musketry pop around the fort, and the staff and rangers have reported disembodied footsteps in the visitors center.
The only truly ghostly experience was a story told by a French and Indian War era reenactor. He was wandering around in the woods when a squad of period-dressed soldiers hailed him and told him to join up; they had a war to fight. The reenactor was happy to hook up...until a few paces into the woods, his unit disappeared in front of his eyes.
But Pittsburgh is still haunted to this day by that campaign; its principals still roam the City in the form of Washington Boulevard, Devilliers Street, and Jumonville Street, all named after ghosts of Fort Necessity. Eerie, hey?