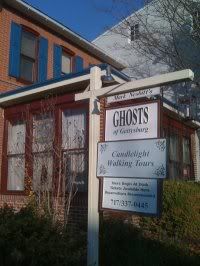 Andrew Woods House
The Woods house at 271 Baltimore Street in Gettysburg was built in the early-to-late 1830s, and was the home and workshop of carriage builder/repairman Andrew Woods.
In 1997, Mark Nesbitt's Ghosts of Gettysburg Tour gang bought it to use as its HQ. So it must have some spooks, right?
Yep, it does, though oddly there are no overt Civil War manifestations, other than a voice or two in the attic and some residual energy in the cellar. It's thought that it served, as did most of the town's buildings, as a field hospital and snipers nest. There are the customary orbs, shapeless blobs, and doors that open or shut for no good reason.
Namesake Andrew Woods is still around, and is said to have helped workmen who were renovating the building by opening doors for them when their hands were full. (Must be part of the union contract.)
Psychic Karyol Kirkpatrick found some other former residents' spirits in the house, too. Research seems to point to James Dobbins as one of the spooks. The son of a preacher, he still talks a good religious game from the afterlife and likes to slam doors.
Another pair are thought to be Mary Kitzmiller and her son William, who died at an early age in the house. It's said that Mary calls out for her surviving son, Charles, and that young William can be heard shooting marbles upstairs.
There's a woman spook in dark clothing who seems loco, but was actually as crazy as a fox. She had a mission as a secret courier, and acted loony so that no one paid her any mind, allowing her to pull off her double-agent act.
The wraiths of two little girls, Emily and her friend, play tag in the attic, and you can hear their voices. There's enough going on that the staff has taken to calling it the "Ghost House." The Ghost gang has closed off the upper floors, but claim there's enough active spookiness on the ground level to keep the customers happy.
Mark Nesbitt gave away the building's secrets in his book
Ghosts of Gettysburg IV
, and the Woods house is a stop on a couple of the local Gettysburg ghost tours.