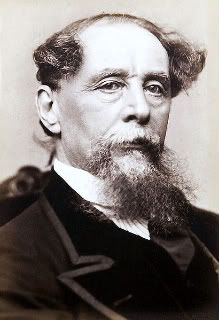 Charles Dickens from Wikipedia daguerreotype by Jeremiah Gurney
Hey, there's one undisputed master of the Christmas ghost story, Charles Dickens. Not only has he written the ultimate Yuletide tale
A Christmas Carol
with four co-starring specters, but he penned a series of Christmas novellas and also written many books based on the holiday theme.
Charles Dickens' fascination with ghosts and the macabre goes back to his childhood, to the ghoulish stories told him by his nanny, Mary Weller, whom he referred to as Mercy, "though she had none on me." And in justice, Weller didn't think Dickens was exactly an ideal charge, either. Maybe that's why she tried to scare the bejabbers out of him.
Not only did Mary's spooked out bed-time stories stick to young Charles, played back to him ad nauseum in his dreams, but reality added its lumps of coal, too. His dad was tossed into debtors prison when he was twelve, forcing him into the English factory system to earn his daily bread.
That was a sure nightmare maker, especially for a boy of the gentry who had none of the thick skin and street smarts of his brother urchins. He was humiliated by his circumstances, but drawn into the previously unknown world it introduced to him. The experience left him a champion of the underclass after he returned to the genteel life.
There were other influences on his sudden epiphany on the horrors of the Industrial Revolution on families, particularly kids, and the supernatural.
He toured the Cornish tin mines and Field Lane Ragged School for street orphans, visited the Western Penitentiary in Pittsburgh, had a decade-long fascination on both sides of the Atlantic with spiritualism; and was a fan of satirist and social commentator Douglas Jerrold, whose Punch magazine article
How Mr. Chokepear Keeps a Merry Christmas
featured a prototype Scrooge.
In 1843, Dickens published
A Christmas Carol
, partly as a social tract but mainly to relieve a money crunch. He wrote it in six weeks, hastened along by the memory of his father's time in gael - they should use the same concept for Wall Street - and a holiday deadline. It was a hit, critically and financially.
It was only the first of many holiday pieces; Dickens was nearly obsessed with the Christmas metaphor. He churned out other Christmas tales where the world weary were shown the light by spirit guides:
The Chimes
,
The Cricket on the Hearth
,
The Christmas Goblins
, and
The Haunted Man and the Ghost's Bargain
, all borrowing various elements from
A Christmas Carol
.
All in all, he wrote at least sixteen stories centered around Christmas, though most passed on spooks and eventually ended their twisted trail with tidings of joy. Of course, some were written because the reading public expected a story from Dickens during the holidays because of
A Christmas Carol
. Others, well, because, in Dickens' words:
"I have always thought of Christmas time, when it has come round, as a good time; a kind, forgiving, charitable time; the only time I know of, in the long calendar of the year, when men and women seem by one consent to open their shut-up hearts freely, and to think of people below them as if they really were fellow passengers to the grave, and not another race of creatures bound on other journeys."
While most of Dickens' novels were along the lines of "Great Expectations," "Oliver Twist," and all his other caste-based classics, he was also quite a prolific contributor to the Brit magazine scene that thrived in his era. And he could write a ghost story as well as any of the popular tale-spinners of the day.
The Complete Ghost Stories of Charles Dickens
, collected by Peter Haining, contains all twenty of Dickens' spook sagas. And his tales of redemption brought on with the help of the netherworld still live on in movies and on the Broadway stage.
Dickens may not have left any personal ghosts to haunt the living, but he sure did his part to make sure that spooks became a mainstay of our holiday season by providing us with his own version of the herald angels.
It's a good season to be reminded that, as he believed, "We forge the chains we wear in life."