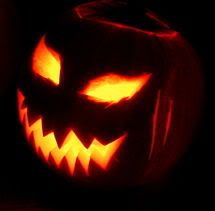 Hey guys,
H&H
wants to spend Halloween week telling the readers' spooky tales around the ol' e-campfire. Here's the deal:
Regale us with your own true or fictional ghost story based on a Halloween theme - cemeteries, witches, resurrection stories, Bloody Mary tales, full moons, zombies, whatever gets your jack-o-lantern beaming - keep it to 750 words or fewer, and e-mail it to
Haunts and History
by October 24th with your nom d'plume.
A select state-wide panel of eerie experts (OK, so far
H&H
and LC, but hey, that covers Pittsburgh and Philadelphia) will choose a winner(s), maybe polish them up a bit, and post the terrifying tarradiddles during Halloween week.
So if you're ready to channel your inner Edgar Allan Poe or Washington Irving, get to the keyboard and spook us out.