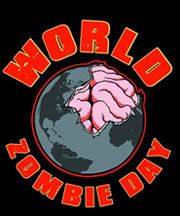 Zombie Fest
H&H blames it all on George Romero. He just had to shoot that little low-budget Living Dead fright-flick, and look at the monster it's created. Well, monsters, actually - as in zombies by the hundreds.
In 2006, a pack of the undead gathered to hold a Zombie-Fest at Monroeville Mall, where the "Dawn of the Dead" mall rats first hung out thirty years ago. The "It's Alive" crew held their initial Zombie Walk there, and nearly 900 living dead set a Guinness record by dragging their oozing carcasses through the Gap stores and food court (hold the mayo on that McBrain burger, will ya?).
They did it again last year, and over 1000 rotting corpses set another record. Pittsbugh was declared the Zombie Capital of the World - the Visitor's Center was soooo pleased to add that accolade to its Three Rivers brag book - and elicited undead envy throughout the world.
And yes, they're out to outdo themselves again.
Mark Menold, organizer of Zombie Fest and chief cook and bottle-washer of the "It's Alive" show, Pittsburgh's late night chiller TV and web program, said "People come from around the globe to make a pilgrimage to the Monroeville Mall. It's like a zombie Mecca."
The highlight of the weekend will be World Zombie Day on Sunday, October 26 (zombies can register beginning at 9 AM) featuring zombie walks with food drives aimed at raising awareness of the problem of global hunger. And we all know how ravenous zombie appetites can be (although the food collected will go to the living).
Forty-six cities have signed on to host undead gatherings, including New York, Philadelphia, Chicago, Atlanta, Los Angeles, Seattle, London and Hong Kong as well as cities in Canada, Australia, New Zealand, and Costa Rica. They all want that coveted "Zombie Capital" title for their very own.
Menold promises a memorable time for fans who participate in Pittsburgh's ghoulish gala. "I want people who come to Zombie Fest to be able to mingle with the guests and dance at the Zombie Ball, to play zombie games, have a chance to appear in a TV show about zombies, rock out to live bands, and to participate in another world record attempt at the Monroeville Mall. You can actually be a zombie for a day. Three days, really."
Pretty cool guest list, too - Peter Washington (Ken Foree), Captain Rhodes (Joe Pilato), Dusty (Sam Nicotero), Head Nurse Zombie (Sharon Ceccatti-Hill) and all your favorite resurrected bods and Romero movie backstagers will be on hand.
The living dead's weekend starts Friday, October 24, when a Zombie Masquerade Ball will be held at the Churchill Valley Country Club ($22/zombie). The Ball will feature bands, a DJ, and is a 21 and over event. Prizes will be awarded for best overall costume as well as best zombie costume.
From noon-six on Saturday, a zombie and horror convention, with film screenings, memorabilia, auction, and special guests who will haunt the halls of the Mall.
The earliest zombie walk on record was held in the summer of 2001 in Sacramento. The first documented non-commercial zombie walk was held in October, 2003, in Toronto. In many places, zombie walks are still flash mob scenes.
But hey, if Transylvania is the natural habitat of Dracula, surely Pittsburgh is where zombies reign supreme, even if we were a bit late in joining the fun (The Steel City didn't hold its own zombie walk until September, 2006, in the South Side's Rex Theater).
And if Monroeville is too far for your stiff gray limbs to carry you, there's the Living Dead Festival, set for 6:30 p.m. on Halloween in EDCO Park in Evans City. Maybe you can stop at the cemetery first and pay homage to Barbara.
The event will celebrate the 40th anniversary of George Romero's "Night of the Living Dead" with an outdoor screening of the film. The doors open at 6:30, and it'll cost you $10 to get in. But what's money to the undead?
So whatta ya waitin' for? Get a jump start on Halloween, satisfy that hankering for some yummy brains, revel in the close knit kinship of the zombie clan, and do the Walk.