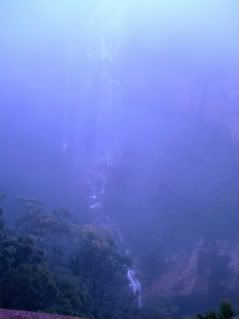 Blue Mist from Picasso Web Album - Anna
This is one of Pittsburgh's better known spook spots. There's a blue mist that covers Noth Park's Irwin Road every night. Stories about the road abound.
It was a rally site for the KKK, complete with a "hanging tree" for unfortunate African Americans. There's an old cemetery nearby and the headstones of two lovers touch in a cold kiss during the full moon. (Another version of the story says the dead paramours try to meet, but if they ever succeed, the world will end!)
The foundation of an old building was once home to a witch. Another house is called "The Midget Farm" and allegedly the little folk will angrily chase away the curious.
According to one tale, a man caught his wife cheating and killed her and their kids. He dumped them in a septic tank where his house stood in the mid-1900s. Their spooks frequent the road.
A spectral dog and a half deer, half human, mutant both haunt Blue Myst Road. One story says a bold teen honked the horn of his car to alert the critters he was coming and later he was found dead, dripping blood, dangling from the "hanging tree."
The "Hanging Tree" has its own lore, as related by a reader that lives nearby the Park. "The story I was told was that when you park your car at one end of the road, because both ends are blocked off, you're supposed to honk your horn 3 times and 3 bodies hanging from the 'lynching tree' and human-like figures walk towards you, aka the KKK. I'm not sure how true this actually is..."
In actuality, Irwin Road is an unlit, unpaved lane dotted with some scattered homes along it. It has "road closed - no access" signs posted at both ends of the five mile street.
There is no written history of the KKK ever meeting there, much less lynching anyone (although a reader wrote and said "The KKK did gather there and they did rallies and lynched several people; back in those days every thing was hush hush and not to be spoken about"). The ancient lovers' headstones are in reality just inches apart and leaning towards each other, and it's just a matter of time until they do meet (We hope the world ending tale is just an urban legend!)
A local resident wrote in to debunk the whole scene. "There are at least two foundations of homes on the road. One was torn down and the other had a fire. No deaths have happened by the road. The graves are from early settlers and they are from 80 years apart, not lovers. As for the orbs as a photographer I can deduce this from both the pollen and dust on this dirt/gravel road."
People being chased and harassed there is usually the result of annoying Irwin Road residents beyond the pale. They have been reported to sic their dogs on and toss some words (and stones!) at overly bothersome visitors. If you're on Blue Myst Road, be civil and make the effort to stay on the local's good side.
Still, it's a great spot to let the imagination roam on a black moonless night and the perfect layout for urban legends to take root and flourish. But...
While the
Pittsburgh Ghost Hunters
found nothing to verify the usual stories and rumors, they spotted an orb the size of a softball floating around, changing speeds and radiating a glow for at least a minute, a long time for that sort of phenomena.
And one of readers wrote in with her near-identical experience while out with her boyfriend: "We weren't on Blue Mist Road, but on the main road by the lake. As we were walking, I noticed something out of the corner of my eye. As I turned to look to see what it was, it was flying towards us and turned. It flew above where the lake is. This 'thing' had a lime green glow to it, and appeared to have wings! There were no car headlights nor street lights at all! It just completely disappeared! And it was too big to be a bat, and birds don't glow in the dark."
So maybe there is something lurking out there...