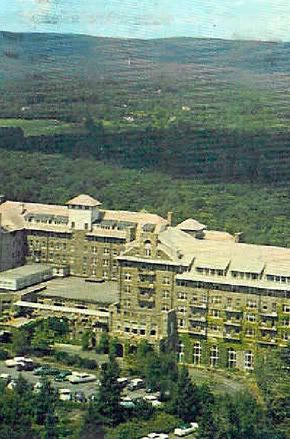 The Buck Hill Inn
Built in 1901 by Quakers as a 20 room mountain retreat in Monroe County, the Buck Hill Inn grew into the biggest resort in the Poconos with a four story hotel made of stone and 270 rooms. It eventually closed in 1991 and sits deserted and partially burned out now, waiting on its' fate - either restoration or the wrecking ball. In its' heyday, violence, murder and suicide along with other assorted mayhem were well known within its' walls.
It was supposed to be a place that the Mob liked to frequent, and the owners were more than willing to bend a rule or three themselves. It's said that in 66 years of operation, 73 people died at the hotel. Five, in fact, died in one room, #354.
A bride named Lorna Kilpatrick was murdered there by the very priest that married her the day before at the resort. He committed suicide, and Lorna's ghost has haunted the room ever since. A maid slit her wrists in there while clutching a rosary. People refused to stay in the room because of the constant freezing cold, doors that wouldn't stay shut - and the ghosts. The hotel had to shut the room permanently.
There's a small room in the basement that's spooked by the spirit of an accountant who was supposedly murdered there. He was cooking the books and the owner found out. One bathroom saw three murders committed in it, and was haunted by a ghost evoked in a seance gone haywire. It had to be exorcised, and poltergeist activity still took place in the restroom.
A maid's closet was the scene of a strangulation, and it was said you could hear the maid gasp and her labored breathing and death rattle afterwards. The spook of an elderly soldier in an old uniform was reported wandering in the servants quarter's on the third floor. He has a gaping hole in his chest from a musket wound. He once strolled through a garden party and then vanished.
An Indian spirit has been seen roaming the area, too. In fact, the Native Americans believed the whole area was evil and populated with spirit shamans and creatures. Certain psychics agree, saying the East Room is the center of lay lines that mark evil. It may be. One owner's wife used to sleep in a room where the lines converged. She ended up schizophrenic.
There are also lots of poltergeist activities. One guard said during his nightly rounds lights would go on and doors open in buildings that he had secured earlier. Some guests reported hearing voices, shaking beds, opening and shutting widows, electrical devices going off on their own, and ghost sightings - even of spooks hovering over their bed. It was featured on MTV's
Fear
series, and Kelly Weaver, Paraseek investigator, was part of the show.
The site has been investigated, both privately and by ghost hunting groups, and they've collected photos and EVPs they claim support Buck Hill's paranormal lore.
However, we've also received several comments from former staff members of the old Inn, and they say the stories are all news to them. They've never heard of any murders or spooks associated with the Buck Hill, with several suspecting that the MTV show initiated its lore, and say several incidents were just college kids who worked there playing around after hours. But they do agree that the complex is thick with memories, if not spirits, and in one voice hope that it's restored again to its former glory.