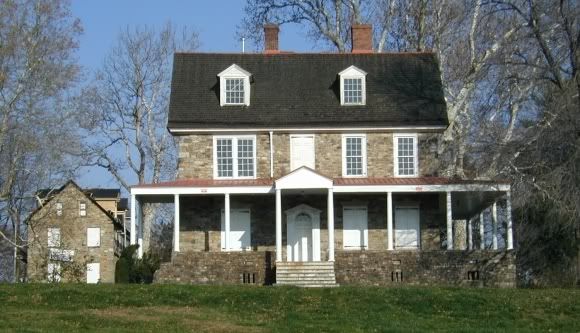 Image from Friends of Bolton Mansion
The 500 acre Pemberton estate dates back to 1683 (they called it Bolton in memory of their English home in Bouton, Lancashire. We guess with the accent it came out as Bolton.) The Mansion was built in 1687 in what is now Levittown, Bucks County.
The home itself is sort of a hodge-podge of design. It was added to and modernized at least four times up to the 1860s. It lasted as a working estate until 1938 when it was given to the University of Penn. It quickly changed hands, going to U.S. Steel as a guest house ten years later and then to suburban innovator William Levitt in 1952.
He in turn gave it to Bristol Township, which used it as a municipal building until 1966. It sat vacant for decades, and now it's a National Historic Landmark being renovated by the Bucks County Conservancy. And it does have its' ghosts.
One spirit that roams the grounds is a lady in a long dress and cloak. She's seen at night and is surrounded by a soft aura. Another woman also walks the grounds, crying to herself as she searches the area. A little girl has been spotted on the second floor of the Mansion running from window to window and peering out each one. Patty Wilson in
Haunted PA
thinks the pair may be a separated mother and child looking for each other. One reader wrote and said that he and his friend saw the shadow of a woman in red go by; sounds a lot like one of the girls to us.
But the most famous ghosties are those of the rebel soldier and his girl. It was said that the owner of the estate disowned his son for enlisting to fight for the South during the Civil War. When the war ended, the son returned home.
But his father refused to forgive him. Distraught, the young man hung himself from the second floor stairwell. His body was found by his childhood sweetheart Mary, a house servant, who shot herself after making the gruesome discovery.
But this tragic tale seems to have a happy ending. A visiting psychic investigator sensed some activity on the stairs and shot a series of photographs. When the pictures developed, the images shown were of a soldier dressed in a Confederate uniform posing with a lady in a Civil War era dress at the top of the steps. It seems as if the star crossed pair that couldn't lay claim to home and happiness in life managed to do so in death.