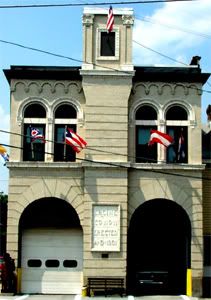 Image from Troy Hill Citizen's Council
Engine House #39 was built in 1901 and dates back to the days of old Allegheny City. The firefighters stationed there served the residents of Troy Hill and their homes, nestled among the slopes and twisting roads of North Side.
It was the last station to use horse-drawn fire carriages and the only one left with an old time fire bell, named Die Glocke Sarah. It even sported a pole for firemen to shimmy down to reach their engines. It was named a historic structure by the Pittsburgh History & Landmarks Foundation in 2001.
But no one told fire captain Don Dorsey that the building was haunted when he took command. He found out the hard way. Blankets were pulled off sleeping firefighters. Window shades went up and down for no reason. The dorm trap door closed on its' own. Footsteps were heard upstairs and on the stairway. Closed doors creaked open. Whenever the firemen went to check on the phenomena, they found nothing.
Spectral firefighters have been briefly spotted sitting around a table playing cards in the basement, whiling away the hours as they did in life. The only identifiable spirit is that of Queenie, an old firehouse dog that still enjoys jumping up and down on a second floor bed.
A psychic that visited the engine house told the firemen not to worry. The spirits – 8 firefighters, 3 chaplains, and Queenie by his count - were there to protect the flesh and blood crew of firefighters and even went out on calls with them.
The station was closed in a round of city budget cuts in 2005. But after all these years, it's a pretty safe bet that the phantom firefighters of Engine House #39 are still on call in Troy Hill. This is another four alarm tale told in
Ghost Stories of Pittsburgh and Allegheny County
by Beth Trapani & Charles Adams III.